My toy poodle Max has been my link to sanity during the pandemic. He is a constant companion. He's not much of proofreader, but he's loyal and good-natured. He's an active, 12 lb., four-year old neutered male. He needs more calories than a sedentary dog.
Unfortunately, Max has had tracheal collapse since birth. For that, I blame his breeder. More worrisome, in adulthood Max has developed constant eye infections. I've taken him to various vets many times, but nothing helps, not even costly ointments. Sometimes allergies can be at the bottom of doggie health problems, so I've decided to change Max's food. Keep in mind:
I don't have money to burn on high-priced dog food
I don't have time to make dog food from scratch
Costly dog food isn't always better
Most people assume that costly dog foods offer superior quality. But this isn't true. Often, they have superior hype. Dog food makers are experts in the use of psychologically persuasive labels that have no real meaning. Dog food makers do not face the strict regulations that govern human food. Labels such as "human grade" and "natural" can be applied willy-nilly.
Natural - there's no official definition for "natural" or "all natural"
Organic - while organic human food must meet strict guidelines, there are no formal standards for organic dog food
Made with real - means nothing
Human grade - has no definition
Holistic - just a marketing term
Unfortunately, consumers can't rely on manufacturer claims. Blue Buffalo, for example, claimed not to use by-products meal in their dog foods. Testing revealed that this was a lie. But, like many modern manufacturers, Blue Buffalo realizes it is more profitable to lie and pay settlement damages than to consistently use expensive ingredients.
Most vets agree that any dog food labeled as having "complete and balanced nutrition" is an adequate choice, although more expensive dog foods tend to be higher in essential fatty acids and other nutrients.
Dog food myths to be wary of
Americans spend nearly $40 billion on pet food and treats per year. Dog food is a big business. Manufacturers are quick to capitalize on trends with profit potential. In truth, dog food has never been about nutrition. It began as a convenience when a 1860s entrepreneur soaked leftover sailor's biscuits in rancid fat. He became successful by marketing his product to kennels as superior food. Ordinary consumers followed their example, enjoying the convenience of dry food while believing it was good for dogs.
Dogs eat like wolves
Dogs have been domesticated for at least 11,000 years. Sure, dogs share 99% of their DNA with wolves, but humans share 98.8% of our DNA with chimps. Both training and dog food are best when a dog is treated like a dog, not his distant ancestor. Dogs learned to thrive by forging bonds with humans and by eating our leftovers. The main reason the modern human diet is bad for dogs is that it's also bad for people. In fact, a new study found human food is actually better for dogs than dog kibble and many commercial raw brands. Busted.
Grains are bad for dogs
Grain got a bad rap when Chinese wheat gluten caused kidney damage in thousands of pets in 2007. The problem wasn't wheat, but contamination by industrial chemicals. While gluten-free food is a current human trend, only 10% of humans are actually allergic to wheat. Likewise, beef and dairy are far more likely to be allergens for your dog than wheat. Dogs have evolved to eat starches and, unlike wolves, can utilize grains for nutrition. Grains include wheat, rice, oats, corn, barley, millet, and quinoa. Grain-free diets often use potatoes, sweet potato, pumpkin, squash, carrots. Some of these are less nutritious than grains. Peas and legumes are high-protein but related to heart problems in dogs.
Lamb is hypoallergenic
Not true. It gained a reputation as hypoallergenic because it was rarely used in dog food compared to chicken, Pork is the least allergenic animal protein and its muscle meat is actually lower in fat than beef.
High-protein diets cause renal failure
Protein doesn't cause kidney failure in dogs. Dogs with kidney disease often have trouble digesting protein properly. The jury is out on whether to limit protein or feed normal amounts of it to dogs with kidney disease. But protein doesn't cause the problem.
Meat is more nutritious than meat meal
In the dog food world, meat contains water. Meat and poultry meal have been processed to remove water and fat. Pet labels are written in order of weight. Meat weighs more than meal, but meal is more nutritionally dense. If meat meal comes first on the label, it has more animal protein than one with "real chicken" in first position.
Reviews tell the story
Reviews are anecdotal, not empirical, evidence. They can be manipulated. They can be arranged. Do not put all your faith in reviews. Pay attention to negative reviews because there is no incentive to have them.
What I look for on a dog food label
Dry kibble
I buy dry dog food because:
it's easier to store and feed than canned food
it makes Max's poops less goopy and smelly
it usually winds up costing less
it seems to be better for Max's teeth
12 grams of protein per day
Adult dogs generally need 1 gram of protein per pound of body weight. Puppies need more for growth. Senior dogs need more, not less, because they can't digest dietary protein efficiently.
Protein is a source for amino acids. It doesn't matter whether these amino acids come from meat or plants as long as they are easily digested and properly balanced. However, plants do not provide properly balanced proteins. Although dogs can survive without meat, it is difficult for them to get the nutrients they need from a plant-based diet.
Pork is the most calorie-dense protein source. Pigs are used snout-to-tail in human food, with meat trimmings and slurry going into hot dogs and sausages. Because humans eat most of the pig, you won't see many pork-based dog foods.
Most dog food uses chicken, namely chicken meal and by-products. Chicken is plentiful and cheap. Chicken meal can be from high-quality or low-quality sources. There's no way of knowing. Even if you find a small, ethical food company, it can be bought out by one of the mass producers without your knowledge. Consumers need to remain vigilant.
389 calories per day
You can calculate your dog's caloric needs using a handy chart.
Max needs just under 390 calories per day to stay in fighting form. Because Max is small and cannot eat more than a cup, I look for calorie-dense brands. High-quality small breed foods usually, but not always, have more animal-derived calories per ounce, But they may also contain legumes, which are linked to heart disease.
Complete and balanced nutrition
Regardless of what else the packaging says, it must be labeled "complete and balanced" or "100% nutrition" to prove it meets basic U.S. government standards for canine nutrition.
The Association of American Feed Control Officials (AAFCO) has specific guidelines. But pet food can meet AAFCO guidelines without being a quality product. AAFCO is a voluntary organization that has no regulatory power. It is concerned with minimum standards, not optimum nutrition.
Protein source in product name
Marketers name pet food to appeal to humans. The delicious-sounding Farm-raised Chicken with Butternut Squash means the chicken (including diseased birds) can come from any commercial poultry facility and 75% of the food can be fillers like corn cobs and cereal by-products.
Here is what dog food labeling requires:
Chicken Dog Food - 95% of the product must be chicken
Chicken and Sweet Potato Entree or Chicken Dinner - 25% of the product must be chicken
Made with Real Chicken - 3% of the product must be chicken
Chicken Flavor Dog Food - chicken must be detectable but no specific amount is required
No legumes
In June 2019, the FDA warned that Arcana is one of 16 grain-free dry dog foods linked to canine dilated cardiomyopathy. Grain-free recipes are known to cause heart problems in dogs because they usually (not always) contain legumes. Legumes include chickpeas, peas and pea starch. They are a cheap way to boost protein content.
Acana (no recalls but lawsuit)
Orijen (no recalls but lawsuit)
Taste of the Wild (one recall, lawsuit)
Earthborn Holistic (no recalls)
Blue Buffalo
Fromm (recall in 2016)
Merrick
Nutro
Rachel Ray Nutrish
NutriSource
Nature's Variety
Natural Balance
California Natural
Nature's Domain
4Health
Zignature (no recalls)
What's not on a dog food label
Recall history
Yes, you need to look at the nutrition profile to make sure you dog gets the right protein, fat, calories, and nutrients. But that alone is not enough. There are a number of premium brands that offer great nutrition on paper but that have been plagued by recalls. Recalls are issued by the FDA because products are unsafe.
Most recently, Sportmix from Midwestern Foods was recalled after 28 dogs died from a mold toxin. Recalls are common among dog food products. Wellness, for example, is a premium brand that has had four dog food recalls since 2008, when it was acquired by a corporate management firm in a $400 million deal. The most recalled brand is Bravo, makers of raw food. The Animal Health Foundation publishes current dog food recalls.
Newer dog food brands are less likely to have a history of recalls simply because they have been around for less time. No recalls does not guarantee safety.
Acana has never had a recall, but in 2018 a class action lawsuit alleged both Champion Petfoods brands, Acana and Orijen, contain unsafe levels of heavy metals. Before that, in 2011, Acana tested positive for salmonella.
Dog food with no recalls
The following are established brands without a history of recalls.
Canine Caviar
Canine Caviar was founded in 1996 by Jeff Baker, a former stem cell researcher. The food is a limited ingredient formula with 27% protein and 599 calories per cup! Their website boasts impressive before-and-after photos of dogs that have been cured of allergic hotspots. Because Max suffers from weeping eyes, I perk up at this. Canine Caviar stopped selling through Chewy's to support smaller retailers. But it may have been that Chewy's deeply discounts products.
A 4.4-pound bag of dog food is $23.55 plus shipping at PetFlow. Pricey but I ordered a bag to give them a try. Works out to just over $1.60 per day. Max doesn't like it.
Annamaet
The company was founded in 1986 by Robert Downey and continues to be a family-owned enterprise. The original adult dry dog food formula has 365 calories per cup and 23% protein. The small breed formula is more nutrient dense and is made from chicken with brown rice. It has 32% protein and 480 calories per cup. Sounds good!
A 4-pound bag is reasonably priced at $13.99 at Chewy's. Yessiree, I ordered a bag to check them out. It works out to about 88 cents per day. Again, Max didn't like it.
Eagle Pack
In 2010, Eagle Pack was purchased by WellPet, which also owns Wellness, Holistic Select, and Old Mother Hubbard. There have been no recalls of Eagle Pack, although Wellness has had several recalls. Eagle Pack original chicken and pork formula dry food has 26% protein. A 30 lb. bag is $44.64 at Chewy's. This food is designed for larger dogs, so it's not an option for my toy poodle.
Nature's Logic
Nature's Logic was founded in 2006 and has had no recalls. A 4.4-pound bag of pork-based dry food is $18.09 at Chewy's and contains 375 calories per cup and 38% protein. Pork is a great protein for dogs that tend to have allergies. The duck and salmon formula has millet, 416 calories per cup, and 38% protein at a cost of $21.78 per 4.4 pound bag. Like My Ollie, it has no synthetic ingredients. While Nature's Logic is in the pricey range, the high level of protein and quality ingredients makes it worth trying out.
Holistic Select
Holistic Select Small Breed anchovy, sardine and chicken formula has 481 calories per cup and 30% protein. A 4 lb. bag is $20.99 at Chewy's. It has had no major recalls as of 2021. However, it contains both peas and chickpeas, which are linked to heart disease in dogs. This is dried pea meal, not the tender baby peas you eat.
Dr. Tim's
The company is a family business that has never had a recall in its 30-year history. The Active Dog Pursuit formula has 30% protein and 442 calories per cup. It uses rice bran and oats, but no legumes. A 5 pound sells for $14.79, so I can feed Max for about 74 cents per day.
Bargain brands
Purina Beneful Incredibites
A 3.5 pound bag of Purina Beneful Small Breed IncrediBites with chicken sells for $6.49. My brother-in-law's mix-breed rescue has eaten Beneful forever and is still like a puppy at age 12. This brand has corn, barley, wheat, soy, and oatmeal along with 26% protein and 368 calories per cup. Compared to most dog foods, this isn't so bad. The cost per serving is just over 46 cents. So yeah, my frugal relative knows a thing or two about dog food. Beneful has been recalled several times and a class action lawsuit in 2015 claimed the product had sickened 1,400 dogs, but the suit was dismissed due to lack of evidence.
Nature's Recipe
Nature's Recipe products have been recalled in 1995 and 2012. The brand is owned by the H.J. Heinz Company, which acquired it from the founder in 1996. It's an economy food that sells for $7.59 for a 4-pound bag of small-breed, grain-free chicken and sweet potato formula (48 cents per serving). However, this formula contains chickpeas, peas, and pea starch – which I want to avoid.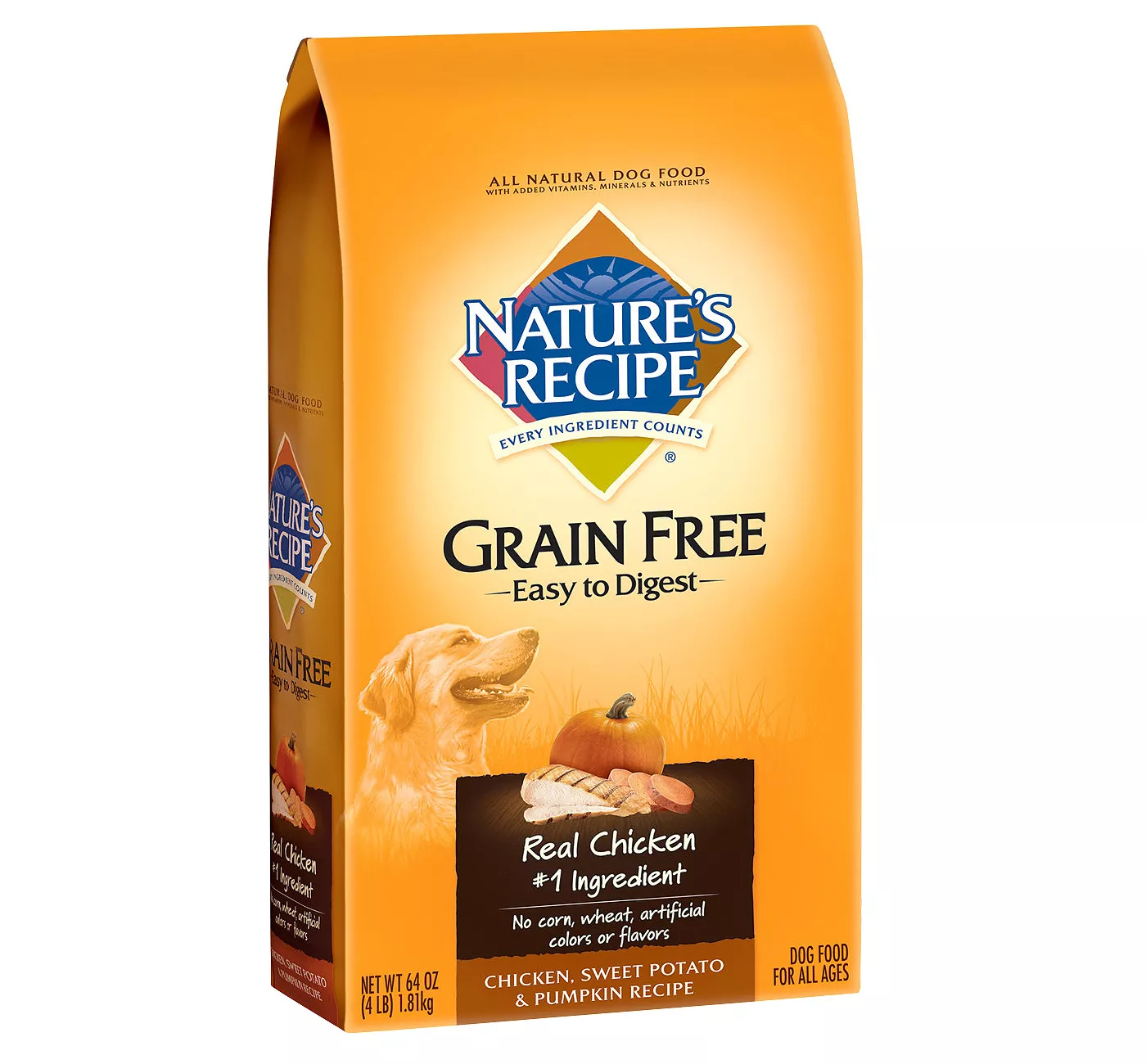 Diamond Naturals
The small breed lamb formula has grains but no legumes. It has ingredients like oranges, which can mean the rind, not the juicy parts. It has 342 calories per cup and 25% protein. Priced at $12.99 for a 6 pound bag, I can feed this to Max for around 54 cents per day. Diamond is a family-owned company, but that does not mean it's free of the concerns that plague better-known manufacturers. It's the no. 5 pet food company in the world, with brands such as Taste of the Wild, Solid Gold, and many others. It has faced six recalls and a class action lawsuit.
Affordable brands
Nutro
Nutro, owned by Mars, was part of the 2007 melamine recall and the 2019 heart disease investigation related to the use of legumes. It was also part of the 2002 investigation into phenobarbital in dog foods as a result of the inclusion of euthanized horses and cattle in the food. In fact, Nutro has a dismal history of recalls, indicating the company puts profits ahead of pets.
Victor Purpose Performance
Victor Select beef and brown rice has 356 calories per and is 24% protein. A 5 pound bag sells for $10.99, or 55 cents per serving. This food is sourced and made in the USA and is 77% meat protein. It has rice but no peas, corn, wheat, or soy. Victor dog food was founded in 1950 in Texas and has never had a recall. Way to go, Victor!
Made in USA dog foods
Dog food can be labeled "Made in the USA" yet use globally sourced ingredients. Sourcing has become important in light of recalls based on tainted Chinese ingredients. Few companies disclose where they source ingredients and even fewer are committed to sourcing ingredients in the U.S. However, U.S. sourcing is not an iron-clad guarantee the brand has evaded recalls.
Sourced in the USA brands include:
Victor (see above)
TruDog freeze-dried food runs $31 per pound and has 49% protein and
Spring Naturals (but it has peas and chickpeas)
Small Batch freeze-dried foods at $18.59 for less than 1/2 pound
Northwest Naturals lamb or beef for $2 per ounce
Tender and True turkey and brown rice $13.99 for 4 lbs
Steve's Real Food, was recalled twice in 2018
Vital Essentials, four recalls since 2015
Frenchie's Kitchen
Lucky Dog Cuisine
TruDog
Made and sourced in the U.S., TruDog has 137 calories per ounce and is 49% protein. It is a freeze-dried, raw food that sells for $30.99 per pound. The recommended serving for Max would be 1.5 ounces (barely 200 calories) at a cost of $3 per serving. Ugh.
Tender and True
The chicken and brown rice kibble recipe sells for $13.99 for a 4 pound bag. It has 26% protein and 350 calories per cup. The price per serving is just under 88 cents. The grain-free version has dried peas and pea protein, a no-no. It has had no recalls.
Frenchie's Kitchen
This subscription-based service sells "home-cooked" meals with limited ingredients. The cost for a 5 pound dog starts at $2.75 per day. A larger dog like Max would, of course, cost more. Scratch that.
Lucky Dog Cuisine
This cooked non-kibble food is sold in 14 pound packs for $169. Ingredients include grass-fed beef and ricotta cheese. The original beef and rice formula has 710 calories per 454 grams and 28% crude protein. Feeding instructions for Max are 4-5 ounces (less than 1/2 cup). For Max, the per serving cost is more than $3. Whaaaat?
Breed-based dog foods
There is some evidence that breeds vary in their nutrient needs and metabolic rates. Arctic Circle breeds and some water breeds adapted to specialized diets in their place of origin and continue to have unique nutritional needs due to in-breeding. Certain breeds are vulnerable to diseases that are affected by diet. Dalmatians often get urinary stones. Miniature schnauzers get high cholesterol and high blood fat levels. Beagles and Labradors are prone to becoming overweight.
For the most part, though, canine nutritional requirements vary depending on size, health status, activity level, and life stage - not breed. A working dog will, obviously, require more calories than a lapdog. An all-purpose dog food cannot meet the needs of a puppy or nursing bitch. Age, activity, and size are more important than breed.
A marketing ploy to avoid is breed-specific diets that utilize ingredients that are from the same part of the country or the world as where the breed originally developed. Just because your Irish Setter came from Ireland doesn't mean he should be fed an Irish diet of potatoes and lamb.

Tufts.edu
Royal Canin
Royal Canin, owned by Mars Inc., sells breed-specific dog food. Royal Canin poodle dry food is $22.99 for a 3 pound bag on Chewy's, which works out to almost $1.91 a day. It has 26% protein and 355 calories per cup, but corn and brewer's rice (leftover hulls) are the first ingredients. Royal Canin was part of the widespread 2007 melamine recall.
Dried dog foods
If you have a dog, I'm sure you've heard of freeze-dried foods like Stella and Chewy's or Dr. Marty's. All of them are muy caro. And they are prone to recalls for nastiness like salmonella. Here are two boutique brands you may not know.
Sundays
Sundays is human-grade, all-natural, and air-dried. Protein is 35% and there are 500 calories per cup. It is 90% beef plus a bunch of things like shitake mushrooms. Absurdly, Sundays dog food costs $59 (normally $75) for 2.5 pounds. I can afford to feed it to my dog once a week, hence the name. Be real, people.
Rawbble by Bixbi
Kasel Industries, makers of Bixbi foods, recalled treats due to salmonella in 2012. It was uncooperative with the FDA. Rawbble comes in dry, freeze-dried, and canned forms. A 4-pound bag of dry pork, lamb and goat formula costs $20.99 at Chewy's, but it has no grains, potatoes, or peas. Instead, it uses millet and quinoa. It has 27% crude protein and 431 calories per cup. Bixbi was founded in 2009 by a former hedge fund manager. It is Boulder-based but sources ingredients globally. I think all hedge fund managers are in league with Satan.
Custom dog foods
Pets can jump on the bandwagon for personalized nutrition. But personalization is really just a marketing gimmick to separate these brands from more mainstream dog foods.
Tailored Pet
Tailored claims to personalize recipes to your pet's profile. Max's recommended recipe is chicken, chicken meal, peas, and lentils with 24% protein and 525 calories per cup. Recurring orders of an 8 pound bag (enough for a month) are $25.20. But peas and lentils are not high-quality. Also, I entered the details for a different small-breed dog, and wound up with the same "tailored" recipe.
The Farmer's Dog
This is a fresh food service. The pork recipe has 39% protein and 630 calories per cup, but the company recommends that Max eat 231 calories per day. Currently, he eats more than 300 calories and has an ideal body. Subscribing to fresh dog food prepared by the Farmer's Dog would cost me $4 a day. Nope, that is beyond my means. Sorry, Max.
My Ollie
Ollie wants $25 a week for frozen meals that provide only 249 calories per day – less than my dog needs. So, Max would be undernourished at a cost of more than $100 a month. Wow. On the plus side, it is made from turkey breast and other whole ingredients. But protein is just 11%.
Conclusion
The best food overall for the money is Victor, which has not had a recall in more than 70 years, is sourced in the U.S., and costs just 55 cents per serving.
The runner-up is Dr. Tim's, which has not had a recall in 30 years and costs 74 cents per serving. But ingredients may not be from the U.S.
Nature's Logic comes in third. It has not had a recall in more than a decade, but it is pricey at more than $1 per serving. Even so, the use of pork and other high-quality ingredients make it a contender.