My toy poodle Max has been my link to sanity during the pandemic. He is a constant companion. He's not much of proofreader, but he's loyal and good-natured.
Unfortunately, Max has had tracheal collapse since birth. For that, I blame his breeder. More worrisome, in adulthood Max has developed constant eye infections. I've taken him to various vets many times, but nothing helps, not even costly ointments. Sometimes allergies can be at the bottom of doggie health problems, so I've decided to change Max's food. Keep in mind:
I don't have money to burn on high-priced dog food
I don't have time to make dog food from scratch
Caveat: my current dog food brand sucks
I currently feed Max Nature's Recipe. For more than a year, he has had weeping eyes. I read a vet's blog, which suggested using bottled instead of tap water. So it occurred to me that maybe his food is at fault. Nature's Recipe products have been recalled in 1995 and 2012. The brand is owned by the H.J. Heinz Company, which acquired it from the founder in 1996. It's a mid-priced food that sells for $8.99 for a 4-pound bag of grain-free chicken and sweet potato formula. Grain free recipes are known to cause heart problems in dogs. Good reason to change.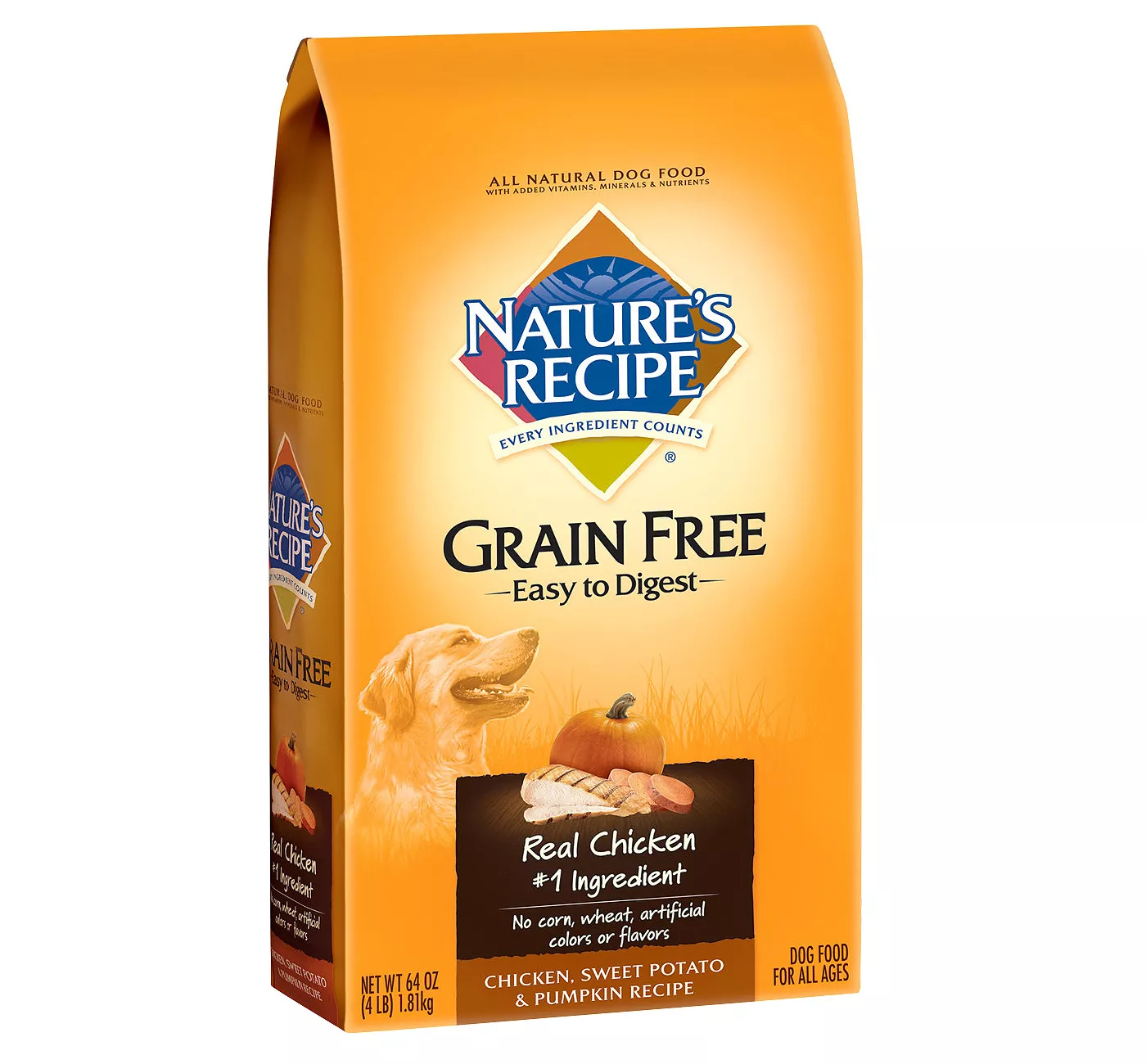 Top reasons to choose dry dog food
I buy dry dog food because:
it's easier to store and feed than canned food
it makes Max's poops less goopy and smelly
it usually winds up costing less
it seems to be better for Max's teeth
What I look for on a dry dog food label
Max is an active, 12 lb. neutered male. He needs more calories by volume than a larger dog.
12 grams of protein per day
Adult dogs generally need 1 gram of protein per pound of body weight. Puppies need more for growth. Senior dogs need more because they can't digest dietary protein efficiently.
Protein is a source for amino acids; it does not matter whether these amino acids come from meat or plants as long as they are easily digested and properly balanced. Although dogs can survive without meat, it is difficult for them to get the nutrients they need from a plant-based diet.
389 calories per day
You can calculate your dog's caloric needs by hand or you can use a shortcut calculator.
Max needs just under 390 calories per day to stay in fighting form. Because Max is small and cannot eat more than a cup, I look for calorie-dense brands. High-quality small breed foods usually have more calories per ounce.
Complete and balanced nutrition
Regardless of what else the packaging says, it must be labeled "complete and balanced" or "100% nutrition" to prove it meets basic U.S. government standards for canine nutrition.
Protein source in product name
Marketers name pet food to appeal to humans. The Association of American Feed Control Officials (AAFCO) regulates how marketers name dog foods.
Chicken Dog Food - 95% of the product must be chicken
Chicken and Sweet Potato Entree or Chicken Dinner - 25% of the product must be chicken
Made with Real Chicken - 3% of the product must be chicken
Chicken Flavor Dog Food - chicken must be detectable but no specific amount is required
The Association of American Feed Control Officials (AAFCO) has specific guidelines for the amount of calcium and phosphorus that can be in diets intended for large breed puppies versus those for smaller puppies. Excessive amounts of these nutrients are linked to health issues in large breed but not small breed pups. Large breed dogs require a puppy food formulated to prevent the rapid bone growth that can lead to hip dysplasia and other joint disorders.
How do nutritional requirements vary among dogs?
Canine nutritional requirements vary depending on size, health status, activity level, and life stage. A working dog will, obviously, require more calories than a lap dog. An all-purpose dog food cannot meet the needs of a puppy or nursing bitch.
Do different breeds have different nutritional needs?
Royal Canin and Eukanuba, both owned by Mars Inc., sell breed-specific dog food. Royal Canin poodle dry food is $18.89 for a 2.5 pound bag on Chewy's, which works out to almost $2 a day. Royal Canin was part of the widespread 2007 melamine recall, but has had no other issues.
There is some evidence that breeds vary in their nutrient needs and metabolic rates. Arctic Circle breeds and some water breeds adapted to specialized diets in their place of origin and continue to have unique nutritional needs due to in-breeding.
Certain breeds are vulnerable to diseases that are affected by diet. Dalmatians often get urinary stones. Miniature schnauzers get high cholesterol and high blood fat levels. Beagles and Labradors are prone to becoming overweight.
For the most part, though, dogs of a similar size, age, and activity level have similar nutritional needs.
A marketing ploy to avoid is breed-specific diets that utilize ingredients that are from the same part of the country or the world as where the breed originally developed. Just because your Irish Setter came from Ireland doesn't mean he should be fed an Irish diet of potatoes and lamb.

Tufts.edu
Costly dog food is not always worth the price
Most people assume that costly dog foods offer superior quality. But this isn't true. Often, they just have superior marketing. Dog food makers are experts in the use of psychologically persuasive labels that have no real meaning. Dog food makers do not face the strict regulations that govern human food. Labels such as "human grade" can be applied willy-nilly
Natural - there's no official definition for "natural" or "all natural"
Organic - while organic human food must meet strict guidelines, there are no formal standards for organic dog food
Made with Real - means nothing
Most vets agree that any dog food labeled as having "complete and balanced nutrition" is an adequate choice, although more expensive dog foods tend to be higher in essential fatty acids and other nutrients.
Unfortunately, consumers can't always rely on manufacturer claims. Blue Buffalo, for example, claimed not to use by-products meals in their dog foods. Testing revealed that this was a lie. But, like many modern manufacturers, Blue Buffalo realizes it is more profitable to lie and pay settlement damages than to consistently use expensive ingredients.
Dogs need nutrition from quality ingredients
Yes, you need to look at the nutrition profile to make sure you dog gets the right protein, fat, calories, and nutrients. But that alone is not enough. There are a number of premium brands that offer great nutrition on paper but that have been plagued by recalls. Recalls are issued by the FDA because products are unsafe.
Most recently, Sportmix from Midwestern Foods was recalled after 28 dogs died from a mold toxin. Recalls are common among dog food products. Wellness, for example, is a premium brand that has had four dog food recalls since 2008, when it was acquired by a corporate management firm in a $400 million deal. The most recalled brand is Bravo, makers of raw food. The Animal Health Foundation publishes current dog food recalls.
Toxic grain-free dry dog foods
Newer dog food brands are less likely to have a history of recalls simply because they have been around for less time. No recalls does not guarantee safety.
Acana has never had a recall, but in 2018 a class action lawsuit alleged both Champion Petfoods brands, Acana and Orijen, contain unsafe levels of heavy metals. Before that, in 2011, Acana tested positive for salmonella. In June 2019, the FDA warned that Arcana is one of 16 grain-free dry dog foods linked to canine dilated cardiomyopathy, including:
Acana (no recalls)
Orijen (no recalls)
Taste of the Wild (one recall, lawsuit)
Earthborn Holistic (no recalls)
Blue Buffalo
Fromm (recall in 2016)
Merrick
Nutro
Rachel Ray Nutrish
NutriSource
Nature's Variety
Natural Balance
California Natural
Nature's Domain
4Health
Zignature (no recalls)
Dog food with no recalls
The following are established brands without a history of recalls.
Canine Caviar
Canine Caviar was founded in 1996 by Jeff Baker, a former stem cell researcher. The food is a limited ingredient formula with 27% protein and 599 calories per cup! Their website boasts impressive before-and-after photos of dogs that have been cured of allergic hotspots. Because Max suffers from weeping eyes, I perk up at this. Canine Caviar stopped selling through Chewy's in order to support smaller retailers. Hurrah! for the small guy.
A 4.4-pound bag of dog food is $23.55 plus shipping at PetFlow. Pricey but I ordered a bag to give them a try. Works out to just over $1.60 per day.
Annamaet
The company was founded in 1986 by Robert Downey and continues to be a family-owned enterprise. The original adult dry dog food formula has 365 calories per cup and 23% protein. The small breed formula is more nutrient dense and is made from chicken with brown rice. It has 32% protein and 480 calories per cup. Sounds good!
A 4-pound bag is reasonably priced at $13.99 at Chewy's. Yessiree, I ordered a bag to check them out. It works out to about 88 cents per day.
Eagle Pack and Holistic Select
In 2010, Eagle Pack was purchased by WellPet, which also owns Wellness, Holistic Select, and Old Mother Hubbard. There have been no recalls of Eagle Pack or Holistic Select although Wellness has had several recalls. Eagle Pack original chicken and pork formula dry food has 26% protein. A 30 lb. bag is $44.64 at Chewy's. This food is designed for larger dogs, so it is not a great option for my toy poodle.
Holistic Select anchovy, sardine and salmon formula has 425 calories per cup and 25% protein. A 4 lb. bag is $15.99 at Chewy's. It has had no major recalls as of 2021. However, according to the Sundays blog, as a grain-free food containing legumes or potatoes, Holistic Select may cause heart failure. Eek. Absurdly, Sundays dog food costs $75 for 2.5 pounds. I can afford to feed it to my dog once a week, hence the name. Be real, people.
Nature's Logic
Nature's Logic was founded in 2006 and has had no recalls. A 4.4-pound bag of pork-based dry food is $18.09 at Chewy's and contains 375 calories per cup and 38% protein. Pork is a great protein for dogs that tend to have allergies. The duck and salmon formula has millet, 416 calories per cup, and 38% protein at a cost of $21.78 per 4.4 pound bag.
While Nature's Logic is in the pricey range, the high level of protein and quality ingredients makes it worth trying out.
Rawbble by Bixbi
Rawbble comes in dry, freeze dried, and canned forms. A 4-pound bag of dry pork, lamb and goat formula costs $20.99 at Chewy's but it has no grains, potatoes, or peas. Instead, it uses millet and quinoa. It has 27% crude protein and 431 calories per cup. Bixbi was founded in 2009 by a former hedge fund manager. It is Boulder-based but sources ingredients globally. I reserve this on the back burner for a later tryout.
Fancy Pants Fresh Dog Food
The most expensive food I can feed Max is commercial fresh food. Sure, I can make it cheaper than I can buy it. But it takes time and means that I have to clean a very messy kitchen. Plus content with greasy bags.
The Farmer's Dog
Subscribing to fresh dog food prepared by the Farmer's Dog would cost me $114 month plus tax. Nope, that is beyond my means. Sorry, Max.
My Ollie
Ollie made it very difficult to remove my decease dog Buster. It broke my heart to sister Buster's name and Ollie was a total pain. Sure, I figured out how to delete his account but it wasn't easy. For Max, Ollie wants $53 a week for a meal plan that provides only 212 calories per day – much less than my dear dog needs. So, Max would be undernourished at a cost of more than $200 a month. Wow.
Tailored Pet
Tailored claims to personalize recipes to your pet's profile. I think it is a clever marketing gimmick. I can get a lamb, goat, lentil and pea blend recipe for $25 for an 8 lb bag. But then again, I could pick any lamb, goat and lentil-pea mix from Chewy's and spend less. Plus, I do not think peas, lentils, and tapioca are premium ingredients. My opinion.